Howcast: How To Dress Like a Hipster
2:15
Nível de dificuldade:
Avançado
Howcast:
How To Dress Like a Hipster
A hipster's outfit is the definition of "calculated cool." Here's how to get the look.
Vocabulário Chave
hipster
outfit
slim
cardigan
retro
kicks
accessories
boxy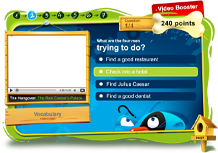 Comece a Aprender Inglês Agora!
Um Video Booster é um exercício interativo de inglês em 6-etapas que o ajuda a aprender vocabulário, expressões idiomáticas e gramática em inglês, vendo e ouvindo video-clipes.
Free Trial
Teste Gratuito
Para jogar este Video Booster, ative seu Teste Gratuito de 3 dias. Você terá acesso a mais de 1.000 vídeos com lições de inglês como este, assim como nossos dicionários visuais, e games para aprender inglês
Prévia do Vídeo
Howcast: How To Dress Like a Hipster
18 comentários