Sesame Street: Neil Patrick Harris - Curly
1:17
Nível de dificuldade:
Fácil
Sesame Street:
Neil Patrick Harris - Curly
Neil Patrick Harris and Elmo take a look at some objects that are curly.
Vocabulário Chave
curly
ribbons
pasta
straw
bring
Kidding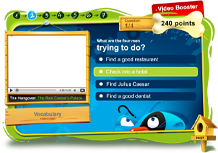 Comece a Aprender Inglês Agora!
Um Video Booster é um exercício interativo de inglês em 6-etapas que o ajuda a aprender vocabulário, expressões idiomáticas e gramática em inglês, vendo e ouvindo video-clipes.
Free Trial
Teste Gratuito
Para jogar este Video Booster, ative seu Teste Gratuito de 3 dias. Você terá acesso a mais de 1.000 vídeos com lições de inglês como este, assim como nossos dicionários visuais, e games para aprender inglês
Prévia do Vídeo
Sesame Street: Neil Patrick Harris - Curly
23 comentários